Inner Strength Counseling
(856) 372-0302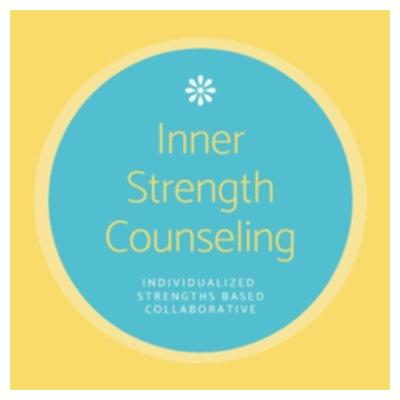 REFERRALS ACCEPTED 7 DAYS/WEEK FOR IIC THERAPISTS & BEHAVIORAL ASSISTANTS - Telehealth & In Person Visits Available For Youth Aged 21 & Younger!
POTENTIAL
We all have it - special gifts inside of us that make life better for us and the people we care about. Sometimes life's challenges hide these gifts like the clouds hide the sun. Sometimes we forget we have them because of all those days when things don't seem to be going our way. The truth is, whether we see our gifts or not, they're always inside of us waiting to shine just like the sun. Our team at Inner Strength Counseling empowers people to find that potential and grow it.
Benefits Of Our Services
Stronger relationships with the people in your life now & the people you'll meet later
New skills to help manage your emotions and successfully face life's challenges
A happier, healthier you
How We Help You Achieve These Benefits
Hearing and understanding what you want
Showing compassion and teaching you compassion for yourself
Using your strengths to achieve your goals
Understanding that multi-dimensional challenges require multifaceted solutions.
Our Services:
Intensive In Community Therapist - 8 week solution focused therapy to help youth aged 21 years and younger experiencing emotional and behavioral health challenges. Families can learn more about accessing this service by contacting PerformCare at 877-652-7624
Behavioral Assistant - 8 week service provided in conjunction with the authorization of an Intensive In Community Therapist and designed to help youth aged 21 years and younger learn adaptive coping strategies and improve self-esteem, interpersonal relationships, communication skills, and anger management. Families can learn more about accessing this service by contacting PerformCare at 877-652-7624
Biopsychosocial Assessments & Needs Assessments - In home services provided by a licensed clinician to determine the level of care required and recommend specific behavioral health services. Families can learn more about accessing this service by contacting PerformCare at 877-652-7624.
Court Evaluations - Service provided by a licensed clinicians
Outpatient Counseling - ongoing services to help kids, adults and seniors navigate challenges. We currently accept Horizon Blue Cross Blue Shield and self pay. To access this service, complete our intake form or email [email protected]
Professional Development - career coaching and clinical supervision; to access this service, complete our intake form or email [email protected]

OUR TEAM OF PROFESSIONALS IS HERE TO HELP
We Value
Making getting help easy
Honoring your unique story
Being available to support you in this journey
Helping you recognize & grow your potential
Celebrating your successes
We Have Diverse Backgrounds
Multilingual including English, French, Haitian Creole, Italian and Spanish.
Experience with mental health, emotional and behavioral issues.
Multiple areas of expertise including ABA techniques, ADHD, anxiety, autism spectrum, biopsychosocial assessments, depression, developmental delays, gender identity, health & wellness coaching, integrative care, juvenile justice, learning disabilities, LGBTQ, marriage and family, mindfulness, motivational interviewing, perpetrators of abuse, physical abuse, sexually reactive behaviors, social emotional learning, solution focused therapy, substance use.
Trauma focused care includes dialectical behavior therapy, domestic violence, EMDR, emotional abuse, grief, human trafficking, physical abuse, self injury, sexual abuse, sexual assault, teen pregnancy, trauma focused cognitive behavioral therapy and trauma informed care.
Parenting support includes ARC Grow, Nurtured Heart, family dynamics, family systems and family therapy.
A MESSAGE FROM OUR DIRECTOR, DR. PATRICIA BRUNER, PhD, LPC
Throughout my career, I've always been a strong believer in growing potential. In 2017, I turned that passion into Inner Strength Counseling to make a bigger, better impact on the world of people in my community. The organization is dedicated to supporting the behavioral health needs of youth, kids and families through intensive in community (in home) services and outpatient counseling while helping professionals in this field do their best work through career coaching and clinical supervision. I believe in this work and I believe in you. The first step to making a situation better is deciding to get help and you're here doing that. We'd be honored to help you on the next step of your journey.
Eligibility
Managed Care; Medicaid;.Referral From Care Management Organization; Self Pay.
Age Groups

Children
Adolescents
Adults
Seniors

Community Services

Family & Support Services

Health Services

Behavioral / Mental Health

Crisis / Safety

Intellectual and Developmental Needs

Treatment Services

In-Community Services

Outpatient Services

Treatment Settings

Detention Center
Home
In Community

Payment Options

DCP&P Contracted Service
Managed Care
Medicaid
Self Pay
System of Care (CSOCI Medicaid / FlexFunds)

Language Spoken

French
Haitian Creole
Spanish

Areas Served

Burlington County
Camden County
Cumberland County
Gloucester County
Salem County
Last Updated: 09/10/20