Gateway Wellness Center
(856) 451-6330 ext. 6650
Bridgeton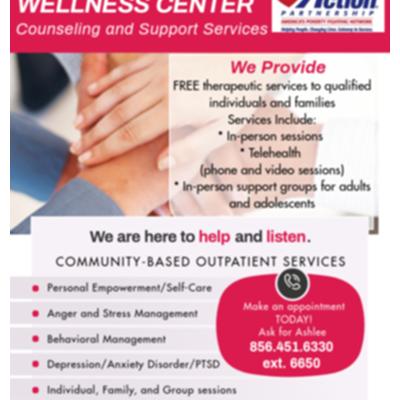 Gateway Wellness Center provides community-based outpatient treatment to individuals and families. Our mission is to ensure participants have access to services that promote health and wellness. Mental health professionals will provide participants with holistic approaches and evidenced-based interventions to address assessed and identified needs.
Trained mental health professionals will meet the clinical and personal needs of individuals/families that are vulnerable to emergency situations due to their economic status and have encountered extenuating barriers that interfere in their attempts to survive. Clinicians will provide needs assessments to evaluate their situation and individualized treatment plans to assist them to overcome hurdles.
The operational goals of Gateway Wellness Center are: (1)To build capacity for mental health prevention and early intervention services at sites accessible to community members, (2) Ensure immediate access to mental health services, to lower the incidence of mental illness and suicide, to enhance wellness and resilience, (3) Decrease stigma and discriminations of persons with mental health and adjustment issues, and (4) Increase the strength and capacity of counseling and support services to be a viable and sustainable community-based program that provides reliable and effective treatment.
Trained clinicians will provide in-person and tele health services to children, adolescence and adults. Individual, family and group sessions are offered. Additional services include parenting and teen parenting education, behavior modification plans, anger management, self-care plans, play, art, and music therapy, and psychoeducation.
Age Groups

Children
Adolescents
Adults
Seniors

Community Services

Basic Needs / Assistance

Community

Education

Employment / Training

Family & Support Services

Health Services

Behavioral / Mental Health

Crisis / Safety

Intellectual and Developmental Needs

Medical

Treatment Services

Outpatient Services

Treatment Setting

Payment Options

Free
Low Cost / Donation
Self Pay
Last Updated: 10/29/20